Energy Assistance Certifier I (2 Positions)
Responsible to review and process Energy Assistance Program consumer applications for completeness, and process household data on computer system or manually to determine eligibility for program assistance. Must be dependable & able to work with low income clients. Position requires a high school diploma or equivalent and accurate math skills. Employment contract periods range from three to seven months in length. Minorities are encouraged to apply.
Click Here for More Information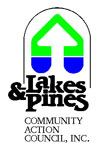 Managing Multiple Priorities, Projects & Deadlines Seminar
Registration Deadline: 8/24/14
When: Thursday, September 25th 2014
Where: Lakes & Pines CAC, Inc. 1700 Maple Avenue E, Mora MN
Time: 8:30 a.m.—3:30 p.m.
Cost: $50 per person + $10 for lunch (optional)
Click Here for More Information